Use Summer Poems to Put Yourself Into the Moment
______________________________________________________________________________________________________
By Samantha Sterling
Summer poems about sunny beaches, warm winds and freedom can be used as quiet meditation to put yourself into "a moment of summer calm" anytime, even in the Winter.
POEMS ABOUT SUMMER
Summer has a special feeling to it which always seems to make you feel good. The good thing about reading poems about summer is that you can feel the "feeling of summer" anytime of year.
As I looked through many poems about summer, though, I found it hard to find one that relayed the warm, wonderful feeling of summer…
That is, until I found this summer poem that I wanted to share with you.
As you read it, notice how relaxed you feel and how it puts you right into the moment…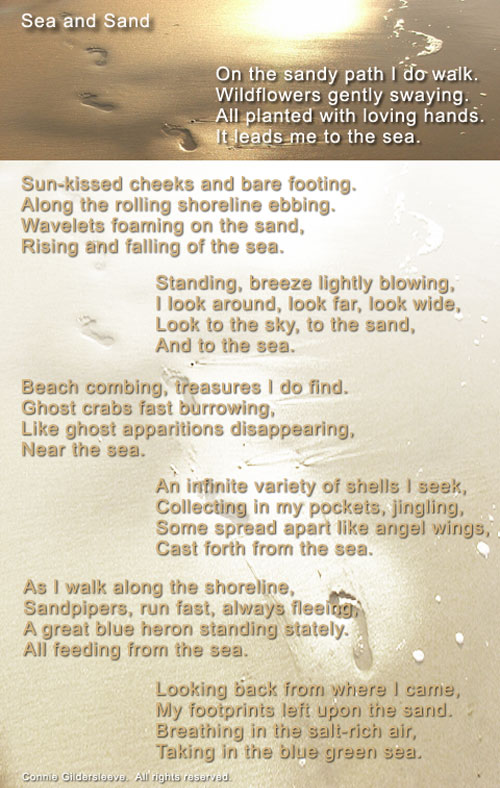 Connie's ending about looking back and seeing her footprints in the sand made me reflect upon what footprints I'm leaving in life and who's lives I have touched as well as feeling the wonderful feeling of summer. Thank you Connie for such a wonderful poem.  CLICK HERE to visit Connie's poem on Allpoetry.com.
SHORT SUMMER POEMS
While there are a lot of short summer poems, here's one that I thought did a good job of putting me right into the moment: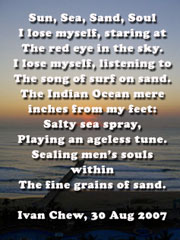 SUMMER POEMS
Now, it's your turn. Take a trip out to the beach, forest, mountain or any nature spot close to you and sit quietly meditating and feeling the wonderful feeling of summer and jot down some thoughts about how it makes you feel.
Don't judge what comes out… Simply allow yourself to feel the moment and write it down so you have a "moment of summer" to remember through the dark days of Winter.
Besides, everyone has a poet inside… express yourself!
Next, let's take a look at some travel food goodies that make traveling with food easy…
Make Traveling With Food Easy…